If you want to know about the application of Big Data in various fields then should read the full articles.
Applications of Big Data in Various Fields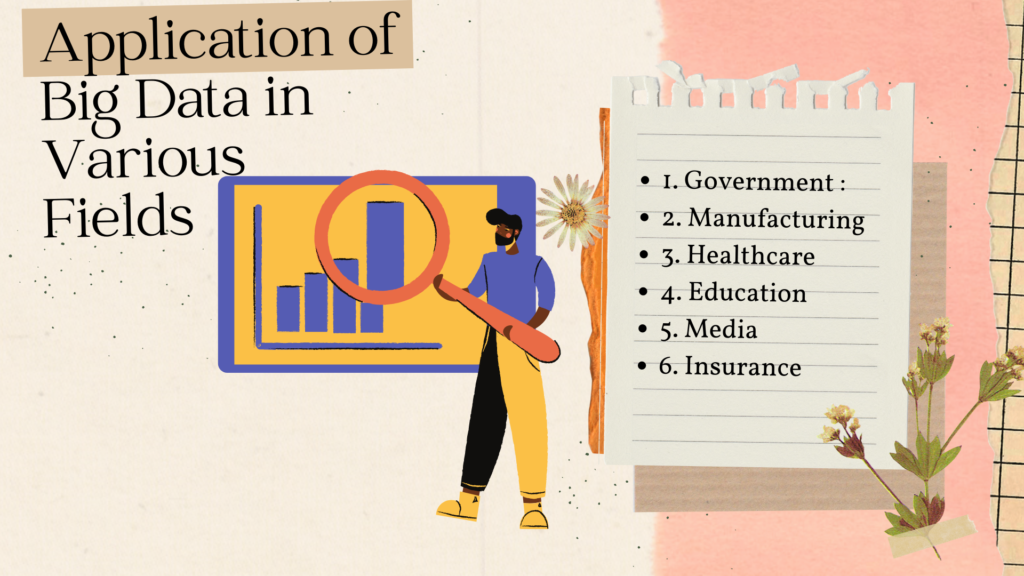 1. Government :
The use of the adoption of big data within governmental processes allows efficiencies in terms of cost, productivity, and innovation.
Data analysis often requires multiple parts of government (central and local) to work in collaboration and create new and innovative processes to deliver the desired outcomes. Since Government majorly acts in all the domains.
2. Manufacturing
Analyzing big data in manufacturing industries can reduce component defects, improve product quality, increase efficiency and save time and money.
3. Healthcare
Big data analytics has helped healthcare improve by providing personalized medicine, clinical risk intervention, predictive analytics, automated external and internal reporting of patient data, standardized medical terms, and patient registration.
In education, big data is used to measure teachers' effectiveness to ensure a good experience for both students and teachers.
With big data in the education sector, it is possible to monitor student actions, such as how long they answer a question, which sources they use for exam preparation, which questions they skip, etc.
5. Media
To understand how the media utilizes big data, it is first necessary to provide some context into the mechanism used for the media process. Social Media can provide valuable real-time insights into how the market is responding to products and campaigns.
With the help of this insight, the companies can adjust their pricing and promotional accordingly.
6. Insurance
Big data allows better customer relations from insurance companies and also health insurance providers are collecting data on social determinants of health such as food and TV consumption, clothing size, and purchasing habits, from which they make predictions on health costs for their clients.
Related.