If you want to know about Roles and Responsibilities of Desktop Support Engineer then follow these articles-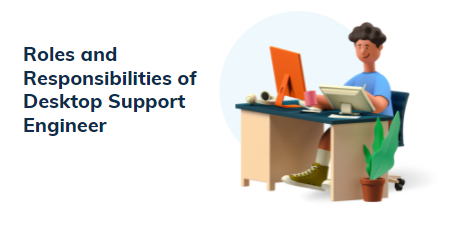 Roles and Responsibilities of Desktop Support Engineer : 2021
ROLES AND RESPONSIBILITIES
Configuring Microsoft outlook, Backup, Repair PST
Monitoring the Internet Connections, VOIP, H-mail Server, FTP Server, Antivirus Server
Setup desktop computers and peripherals and test network connections. 
Install and test desktop software applications and internet browsers. 
Test computers to ensure the proper functioning of computer systems. 
Extend computer support for systems' software and hardware.
Setup computers and install software for various applications and programs. 
Maintain computer peripheral devices like printers and resolve associated problems.
Creating the Domain ID's Dialer ID's for new Employee.
Import and export post-production reports and mail marked to Clients.
 Troubleshooting IP Phone's, Network connectivity like Cabling, Punching, Network Printers.
Taking Care of CCTV Camera & DVR if any problem updates to AMC team.
Checked the connectivity of Internet if any problem found complaints marked to Vender.
Currently working Noble Dialer, Fetching the Report, Monitoring Minutes and Server, Backup Calls Logs, and Provides Call Logs If required.
Creation and Deletion of Noble ID, Maestro IDs, Creating Campaigns, Data Uploading, and churn.
Providing Level 1 support for user's related operating system and network issues.
Helps User to Login and Log Out.
Taking Care of Level 1 Issue and resolved Like System hang Issue, Update antivirus on user workstations.
Working on Aspect 6.6, Installing the Aspect, Creating Campaign, User ID
 Knowledge of Export-Import, Fetching Calls Logs, Monitoring the Server Disk Space.
Monitoring the share folder and utility.
X-lite, I-beam, IP phone configuration support
Installation of all software and utilities.
Hardware all device maintenance and trouble suiting of window solving.
Used Norton Ghost Utility for Windows Installation.
Used Hiring boot software to reset the password of windows, Repair the PST, Low-Level Formatting.