In this blog, we will discuss in details what is IPv6 address, features, and an overview of IPv6.
What is IPv6 Address?
IPv6 is a recent and most popular versions of Internet Protocol address after IPv4. Internet protocol version is developed by Internet Engineering Task Force(IETF) on December 1994 on based of IPv4.
IPv6 works on OSI network layer reference module. For know about IP address overview do not read to forgot –What is an IP Address: an Overview
IPv6 address is made of 128 bits and divided into eight segments or blocks. IPv6 is write down on Hexadecimal number systems.IPv6 is a classless type of IP version that can not directly communicate with IPv4.
For communication between IPv4 to IPv6 you need to used some technique to communicate of them.
Features of IPv6
Large Address Space:
IPv6 allows user to create a large number of Network address and Host address. In IPv6 you can create up to approximately 3.4×1038 of address.
2. Simplifield Header:
IPv6 has a simplified header the size of the header is 40 bytes and 8 of fields. IPv4 has 36 bytes space and 13 of fields that are too difficult to use in the header file.
IPv6 does not need to NAT(Network Address Translation) to communicate with endpoints. It directly communicates to endpoints hosts.
4. Auto configuration:
IPv6 supports stateful and stateless autoconfiguration to communicate with each other. Stateless configuration means hosts used assigned an IP address automatically from the IPv6 DHCP server.
Stateless Configuration means all the Hosts can automatically itself assigned to IP addresses to communicate with each other. DHCP is not effective in stateless configurations.
5. Fast Forwarding/ Routing:
IPv6 allows users to Fast Forwarding Routing because of all the information available in header files. Therefore Router takes quick decisions for Routing and Switching.
6. IPsec
IPv6 provides data security to transfer the files to endpoints in top-level encryptions formats.
IPv6 allows users to transfer their files in an encrypted format or without encryption format. You can choose according to your requirements.
7. No Broadcasting
IPv6 has not optioned for broadcasting. In IPv6 you can do the unicast multicast and anycast.
8. Fast Transaction
IPv6 transactions are better than IPv4 because all the information is available in the header file that you can take the quick response and transaction fast.
9. Mobility
IPv6 allows options for mobility because it has a large number of IP collections. You do not need to change IP addresses whenever you visit different locations.
After the What is IPv6 address and features of IPv6 now we are going to discuss how to write IPv6 address.
How to write IPv6 address or Address representation of IPv6?
There are some importance method to write IP address version 6-
Rules: 1
If two segments contain consecutive zero then replace zero segments from double semicolons (::) sign.
Example–
FFFF : 0000 : 0000 : ABCD : FFCD : AB56 : CD42 :ABDF
Abbreviate IPv6
FFFF :: ABCD : FFCD : AB56 : CD42 :ABDF
Rules: 2
The double semicolon (::) must be used to represent the largest number of 16 bit set of zero as possible and removed deading zeroes
Example-
FFFF : 0000 : 0000 : ABCD : FFCD : 0000 : 0000 : 0000
Abbreviate IPv6
FFFF : 0000 : 0000 : ABCD : FFCD ::
FFFF : 0 : 0 : ABCD : FFCD::
Rules: 3
If Multiple times of the segments of zero between another segment and zero segments are the same in right and Left side then used double semicolons on the left side.
Example-
FFFF : 0000 : 0000 : ABCD : FFCD : 0000 : 0000 : BCDE
Abbreviate IPv6–
FFFF :: ABCD : FFCD : 0 : 0 : BCDE
Rules: 4
Double semicolons (::) can not be used single 16 set of zeroes.
Example-
FFFF : 0000 : BCDA : ABCD : FFCD : 0AFD: AAAA: 0CDE
Abbreviate IPv6–
FFFF : 0000 : BCDA : ABCD : FFCD : AFD: AAAA: CDE
After the What is IPv6 address how to write IPv6 we are going to discuss about types of IPv6 address-
Types of IPv6
There are three types of IPv6 address-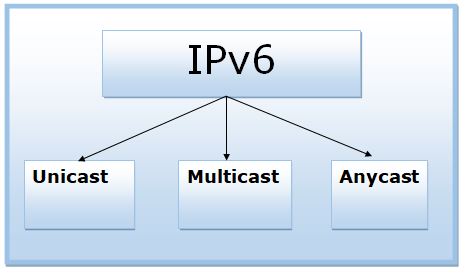 Unicast IPv6 Address
Unicast Ipv6 address is used to refer to as a single IP address. In unicast, you can transfer the data from a single end to a single destination.
The Range of IPv6 in unicast is 2000::/16 means your IP address started from 2001.
2. Multicast
Multicast address is used to transfer the data from single destinations to multiple groups of destinations. The multicast address whenever you send the packet of data from one destination it will be delivered your data delivered to every host that particular in the group.
The range of multicast IP address is FF00::/8. The multicast is reserved FF02::1 from sending the link on multiple destinations.
3. Anycast
An anycast address is used to deliver the data from multiple data centers or multiple points. Anycast used to incoming requests to deliver the packets from the nearest nodes or server.
An anycast address is similar to multicast address but different is that because it's delivered the packet from nearest interfaces. Anycast used a similar IP address to deliver the information from the nearest server.
Thanks For reading this Blog, Have a Nice Day